YOWhatsApp or FMWhatsApp: comparison and differences
YOWhatsApp and FMWhatsApp are two MODs of the popular messaging app that have lots of things in common, we could say that they're almost clones.
Chats
The Chats window is exactly the same: the distribution of the information, default colors, icon design, functions… The only different is the name that crowns the interface, apart from that, everything is identical including the options of the + floating menu that you can see dropped down in the FMWhatsApp picture.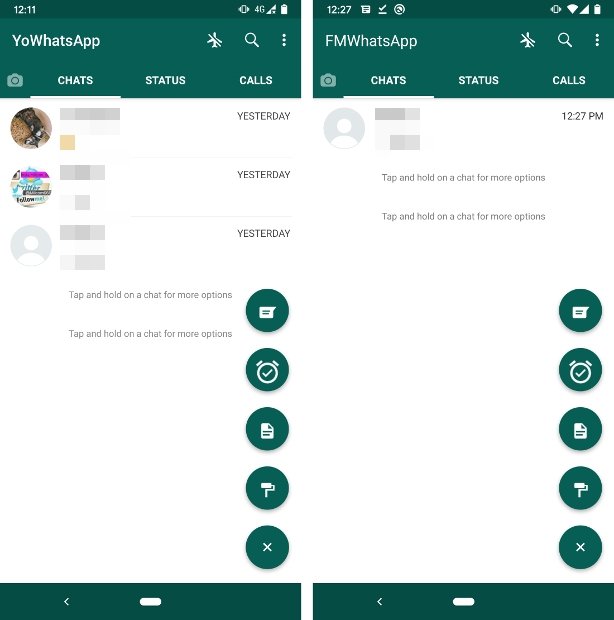 The behavior is also identical. By pressing on a conversation on the list, you'll access the chat in question, where you can write using the on-screen keyboard. Another minor change has to do with the options menu that drops down when pressing the icon of the three vertical dots available in the top right corner: both apps have the same options, only changing the name of the first entry of the menu. In the case of YOWhatsApp, it's labelled as YoMods, whilst in the case of FMWhatsApp, it's called Fouad Mods. A slight difference that has to do with the name of each app.
Status
The stories section is also identical. The same functions to take photos, record videos or write messages to be shared for 24 hours. Regarding, the privacy settings relative to this section, we can also find the same options.
Calls
At this point, we hope you weren't expecting to find any differences. All MODs are almost clones and that also goes for all their functions. In Calls, they both allow us to make phone calls or video calls, whether individually or in group.
Settings
The design of the settings menu changes slightly, mainly because the icons are different and the arrangement of certain options change but they are basically more or less the same. There aren't any noteworthy differences, all privacy and security options are available in both options.
Regarding the customization options, just like all MODs, they share the same repository with a few thousand skins to choose from, as well as options to import your own skins. Both options also allow us to change the colors of the interface's modules, affecting both the lists and the conversations.
Any more differences? The developer in charge of each app. Yousef Al Basha is the developer behind YoWhatsApp, whilst Fouad Mokdad is the person who is developing FMWhatsApp. Both try to keep their software updated on a regular basis, including antiban version when Facebook, the owner of WhatsApp Messenger, blocks the use of its platform on behalf of MODs and unofficial versions.